Rediscover the depth and beauty of the Most Holy Sacrifice of the Mass.
Sign up to get these incredible resources in your inbox every Saturday:
Sunday Homilies with Fr. Mike Schmitz

Encountering the Word with Jeff Cavins

Sunday Mass (Premieres Sundays at 10AM ET)

And more!
Support Sundays with Ascension
If you or someone you know has benefited from this ministry, please consider making a gift of financial support by clicking the button below.
Your gift ensures that we are able to continue bringing resources like this to Catholics in need.
As Ascension is not a nonprofit organization, your gift is not tax deductible. If you would like to donate to Fr. Mike's ministry, a 501c3, you can do so at bulldogcatholic.org/donate.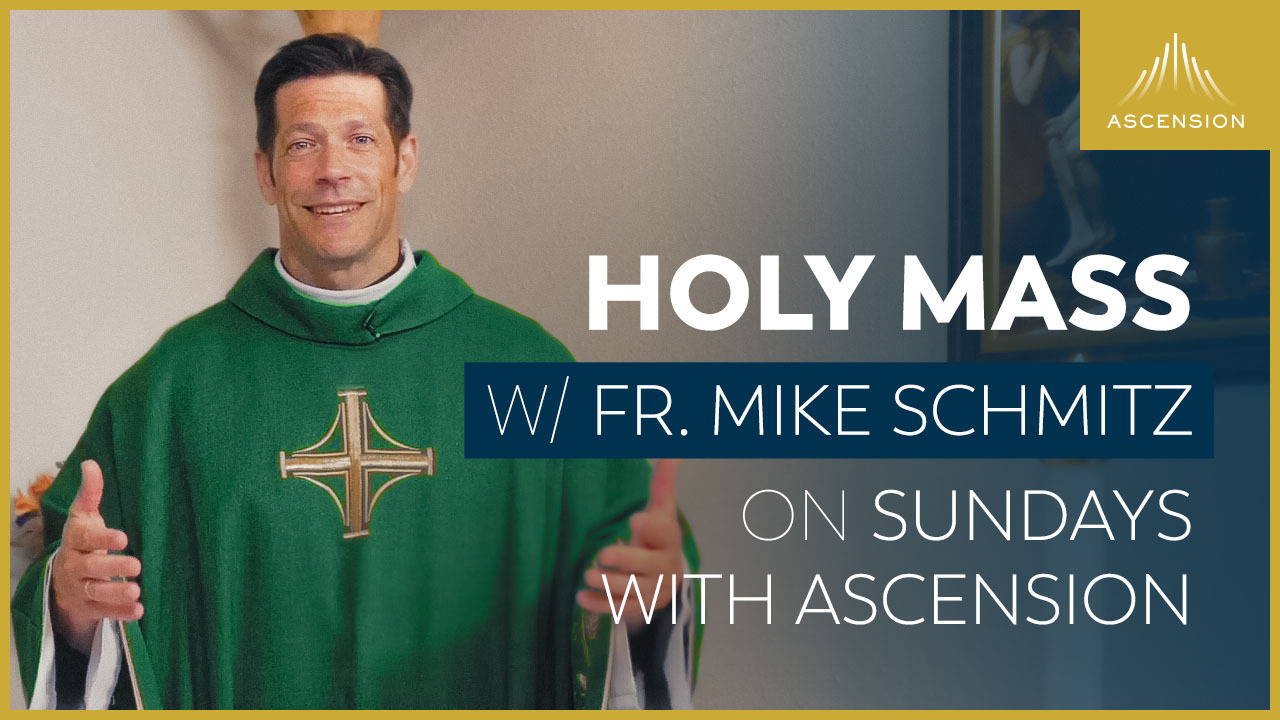 For Catholics unable to attend Mass in person, Ascension, Fr. Mike, and the Newman Catholic Campus Ministries at the University of Minnesota Duluth offer the Virtual Front Pew every Sunday at 10AM ET on our Sundays with Ascension YouTube channel.
(See what Fr. Mike has to say about attending Mass in person here.)
What Catholic Are Saying about Sundays with Ascension
"This is a life giving, life changing ministry. Thank you! Fr. Mike is a joy to listen to. Please spread this good news."
—blessednyj from Apple Podcasts

"...He [Jeff Cavins] is the most insightful, peaceful, inspiring bible commentator. I really appreciate and benefit from his reflections."
—Lucia DeLoach from YouTube

"Prior to Covid, I struggled with putting additional time aside to pray and worship. Once the pandemic started, I started viewing Sunday mass with Fr. Mike and my desire and eagerness to deepen my relationship with Jesus grew ever since. I've realized how much I want to deepen my faith and relationship with God and that is truly a grace given by God which I am eternally grateful for."
"Love the way Fr. Schmitz explains and breaks the Gospels down. He knows how to make it relatable and understandable for everyday life. He makes me reflect on things I wouldn't have paid attention to. I share his podcast with my friends and family, Catholic or not :-) A+"
—SugeyB from Apple Podcasts

"Father Mike, Thank you for sharing the TRUTH of HEAVEN and that we must STRIVE and FIGHT to get there. You do such a wonderful homily by putting the essence of the topic in perspective, so that I can see myself and the choices I am making in my life today...Thank you for sharing the Truth of how to get to HEAVEN! Amen."
—Barbara Pursley from YouTube