Venture: The Bible Timeline
for High School
An 8-Session program for High School students featuring:
An Easy Way to Teach Teens to Understand the Bible
Looking to get teens to make their Catholic Faith their own? That only happens when they understand how remarkable salvation history is. Venture introduces teenagers to the "big picture" of salvation history in a way that is simple to understand and easy to teach. It uses the revolutionary Great Adventure Bible Timeline learning system that hundreds of thousands of Catholic adults have used to learn the Bible. Once teens understand the Bible, their faith will become a relevant and indispensable part of their lives.
Special Offer for Parishes
<b>Limited Time Only!</b>
Get a FREE Sample Copy<br>of the new Belonging Parent's Guide<br>
Venture: The Bible Timeline for High School
offers eight lessons:

Lesson 1: An Introduction to the Bible

Lesson 2: The Early World

Lesson 3: The Patriarchs and Egypt

Lesson 4: Exodus, Joshua, and Judges

Lesson 5: The Kingdom of God – United and Divided

Lesson 6: The Exile, the Return, and the Revolt

Lesson 7: Jesus and the Gospels – Messianic Fulfillment

Lesson 8: The Early Church and the Church Today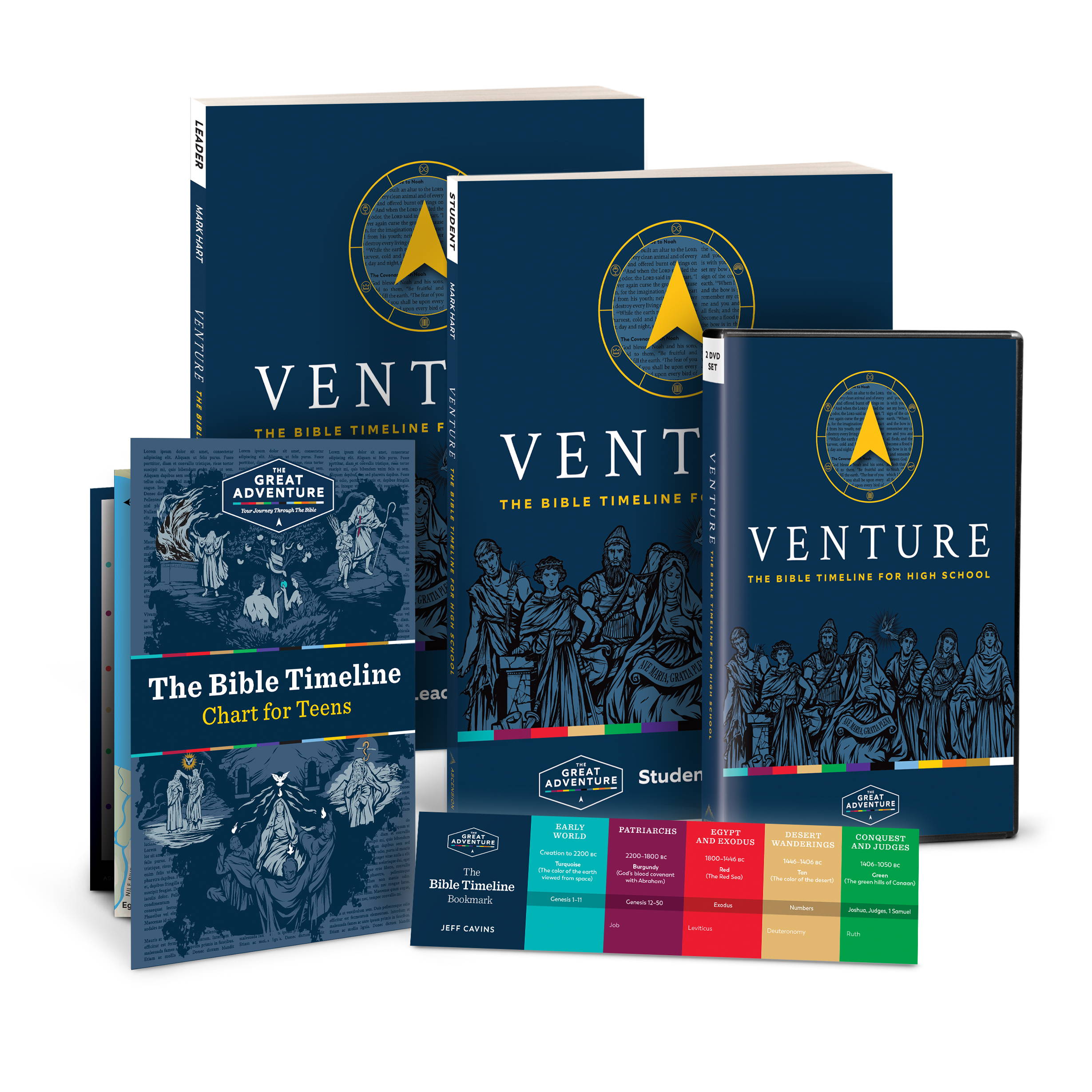 Video presentations for each lesson are divided into 3 segments:
Discover the simple and clear way of getting a grasp on the "big picture" of salvation history using the popular Great Adventure Bible Timeline Learning System.
Hear from experienced presenters who answer some of the most common and most challenging questions that are bound to come up when teaching teens about the Bible.
Biblical Character Profile
Help the story take root and become more relevant to your teens lives through these compelling profiles of different characters from Scripture.
Special Offer for Parishes
<b>Limited Time Only!</b>
Get a FREE Sample Copy<br>of the new Belonging Parent's Guide<br>