The Holy Bible
The Great Adventure Catholic Bible
Let the Word of God come alive in your life!
Join the adventure through salvation history that is captivating the Catholic community.
---
Don't Just Read the Words of the Bible ... Understand Them.
---
---
Full-color pages feature the comprehensive Bible Timeline® Learning System, easily recognizable by 12 unique colors.
12 timeline charts provide a visual overview of the important dates and context of each salvation history time period.
70 key event call-outs provide a brief description of milestones in the biblical narrative.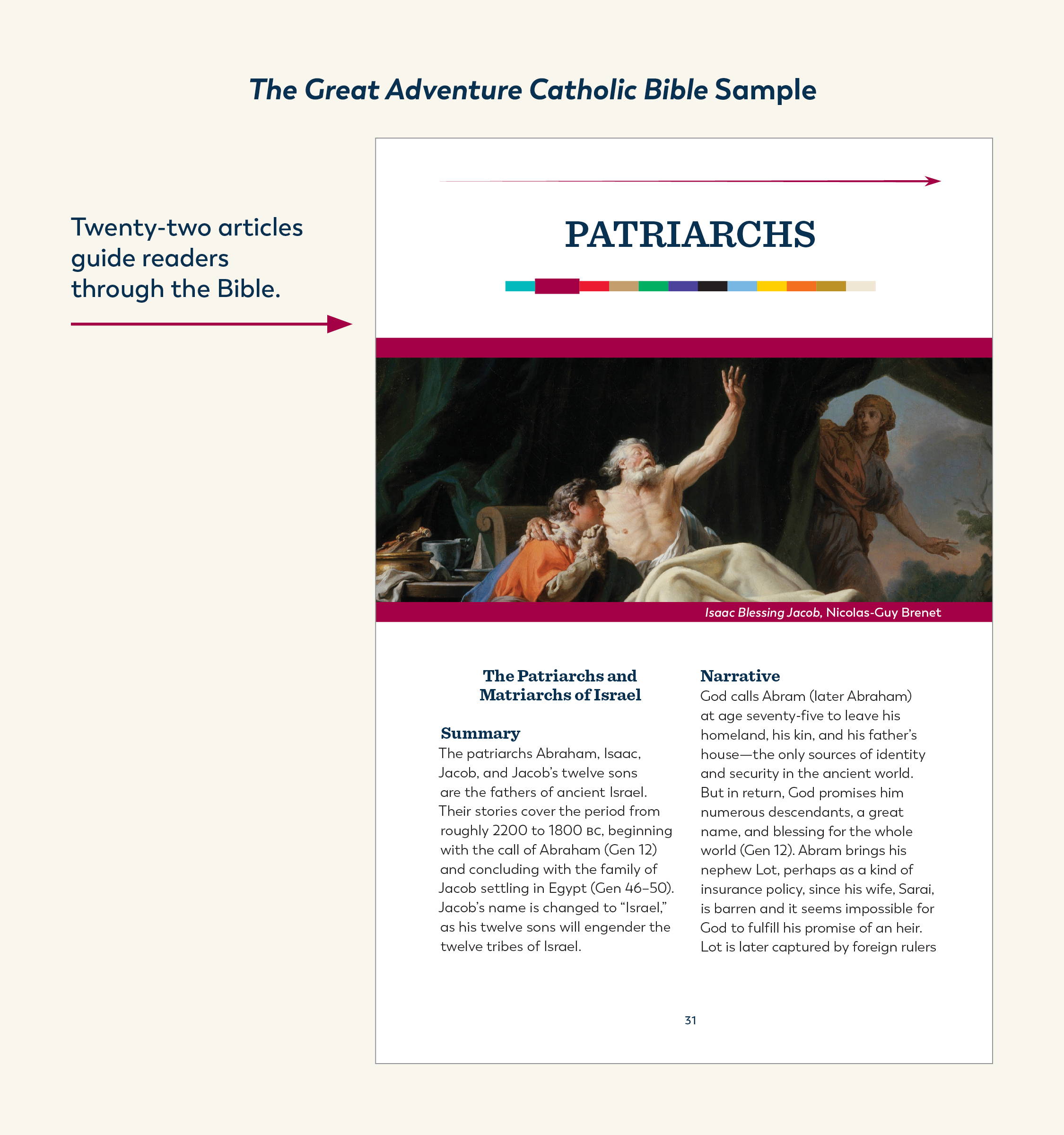 Each book is color-coded for easy reference, indicating where it belongs within The Bible Timeline® Learning System. A beautiful, eye-catching design seamlessly guides readers through the time periods of salvation history with images and other resources to further their understanding.
---
CUSTOMER REVIEWS
More than 2,600+ reviews! 
Easy to read and understand.
Merced Cantu  
⭐️ ⭐️ ⭐️ ⭐️ ⭐️ 5.0 Stars
I got this book to follow "The Bible In A Year:" it has made it easy to understand what GOD'S message to us is all about.
June 13, 2022
Finally found this in stock and had to get one!
Robert A. Noble
⭐️ ⭐️ ⭐️ ⭐️ ⭐️ 5.0 Stars
I have been looking for this bible to be in stock for a long time. I finally found it and I am not disappointed! The bible looks amazing, good feel in the hand, and I love the RSVCE! This also has words of Christ in red which I personally love.
I cannot recommend this bible more, if your serious about the Lord you will find Him in the pages.
June 04, 2022
A really great Bible!
Robb Cinotti
⭐️ ⭐️ ⭐️ ⭐️ ⭐️ 5.0 Stars
What I liked most of all about this bible is that it was so very easy to understand!
May 28, 2022
Awesome adventure book!
Marcial Aguinaldo
⭐️ ⭐️ ⭐️ ⭐️ ⭐️ 5.0 Stars
I got mine about over a week ago. I checked some of the in-between commentaries and timelines to understand more what is to come in narratives and others. I am now in my 14th day youtube video with Fr Mike's 365, who's also equally superb, His program is so complementary with this great adventure book, simply awesome. A rekindling to getting a deeper knowledge has awaken my interest. Appropriately it should be called "The Greatest Adventure!" Thank you so much!
May 02, 2022
Beautiful
Robin
⭐️ ⭐️ ⭐️ ⭐️ ⭐️ 5.0 Stars
Just received it and love the quality. Need to spend more time with it.
May 02, 2022
Love this Adventure Bible
Pat R
⭐️ ⭐️ ⭐️ ⭐️ ⭐️ 5.0 Stars
I bought this bible before BIAY came about. I was so happy with the maps and guide for reading but when Fr. Mike and Jeff Cavins started BIAY, I got to read along, I was ecstatic! The best book I have ever bought much more than a bible!
April 18, 2022
PERFECTION!!
Ice Rain
⭐️ ⭐️ ⭐️ ⭐️ ⭐️ 5.0 Stars
I love the feel and weight of this bible!! When I use my highlighters, it also doesn't seep through. I love the thin pages personally. The colors are beautiful, and I especially love how the words Jesus spoke is in red. It just helps me pause and really absorb His words! My daughter also bought this bible. NO REGRETS!
March 30, 2022
I love this Bible! (spoiler: I am not Catholic)
Michele Kahle
⭐️ ⭐️ ⭐️ ⭐️ ⭐️ 5.0 Stars
I love having the WHOLE Bible. I love the way it is designed to help the reader succeed!! Succeed in reading it all! Succeed in understanding all that can be understood! And, of course, I love the podcast, the reading plan, the notebook and companion. I love that when our focus is Jesus, we can study His Word and worship Him together …regardless of our background or denomination. Every Tribe! Every Tongue! Every People! Every Nation! ♥️
February 23, 2022
Can You Love A Bible?
Linda Sullivan
⭐️ ⭐️ ⭐️ ⭐️ ⭐️ 5.0 Stars
Can you love a Bible? A firm yes! From the soft inviting cover to the informative maps -every page with a clear font and quick color guided tabs- this the most inviting Holy Bible. Many Blessings to All- Let the Great Adventure Begin and Never End..Linda
February 21, 2022
Love my Bible!
Bob Garzs 
⭐️ ⭐️ ⭐️ ⭐️ ⭐️ 5.0 Stars
I started BIAY a year age using my own Bible but found it too difficult to navigate and fell behind and gave up half way through Genesis.
This year I started with the Great Adventure Catholic Bible and love it. I also ordered the index tabs.
It is so easy to navigate and the quality is the best. I look forward to the podcast everyday and take notes as well.
I highly recommend this Bible. In fact I bought one for my daughter too!
February 05, 2022
---
---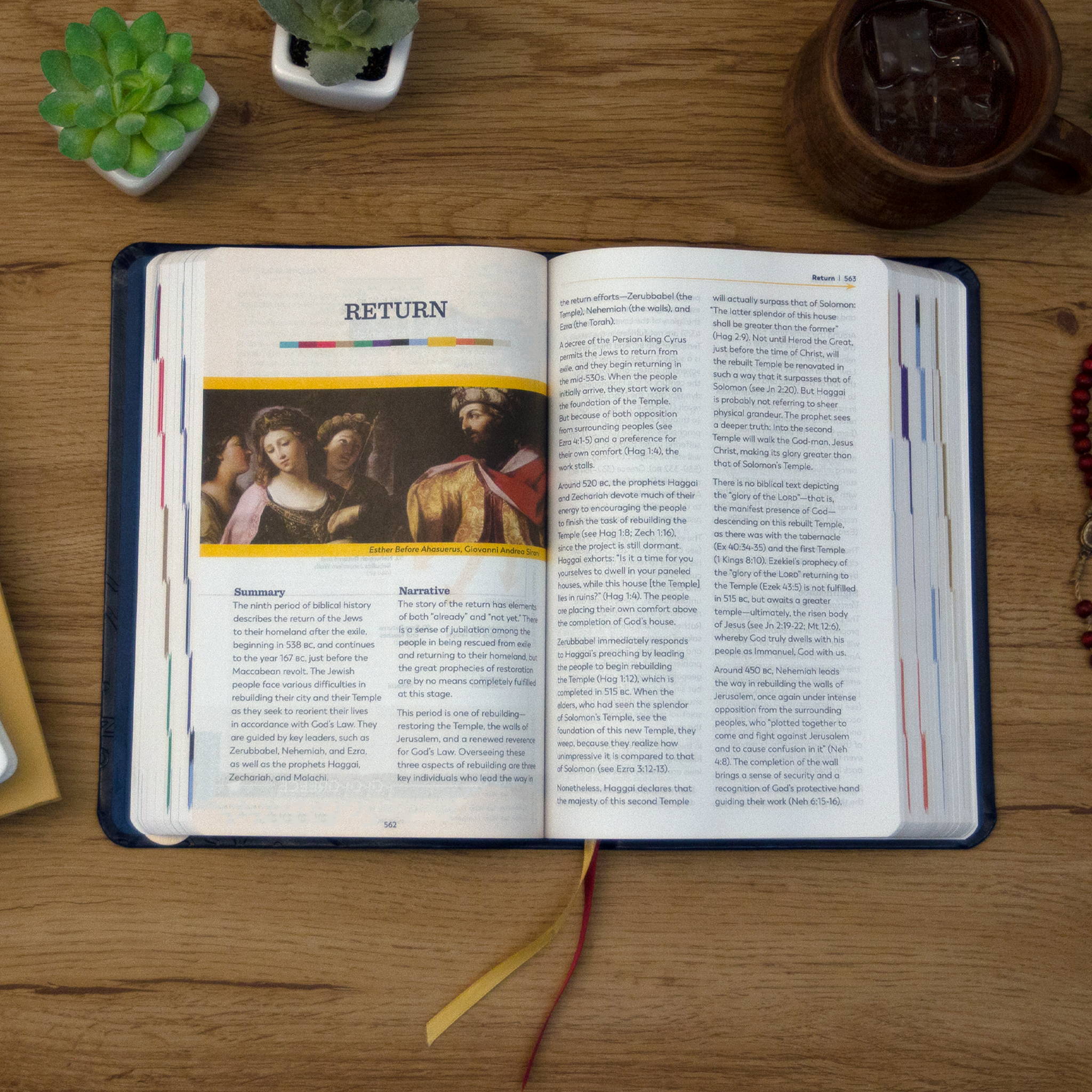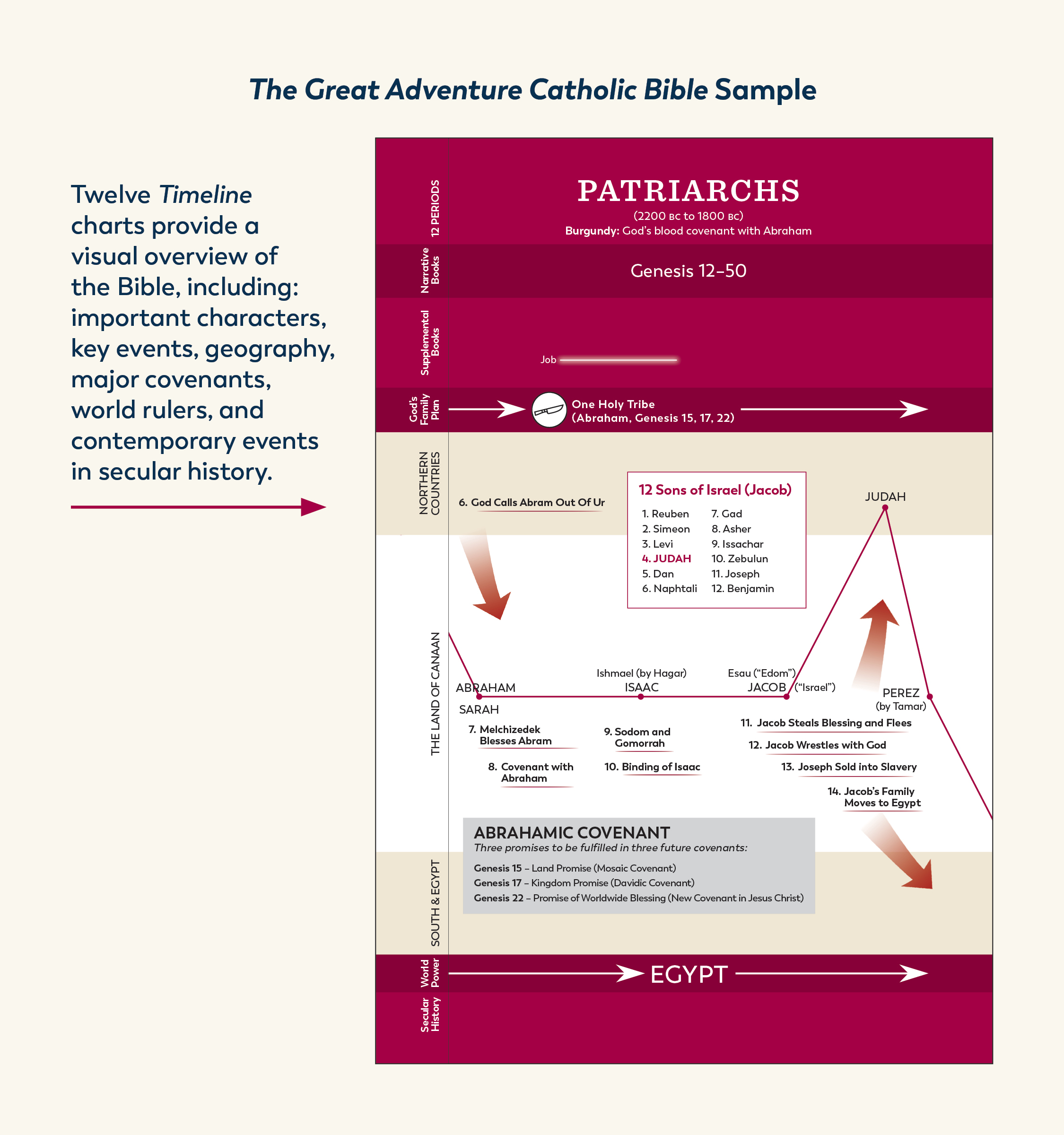 Detailed charts for each time period give a visual overview of important characters, events, locations, covenants, secular rulers, and more.
---
An authentically Catholic Bible that allows you to open your heart to the depth and beauty of God's Sacred Word.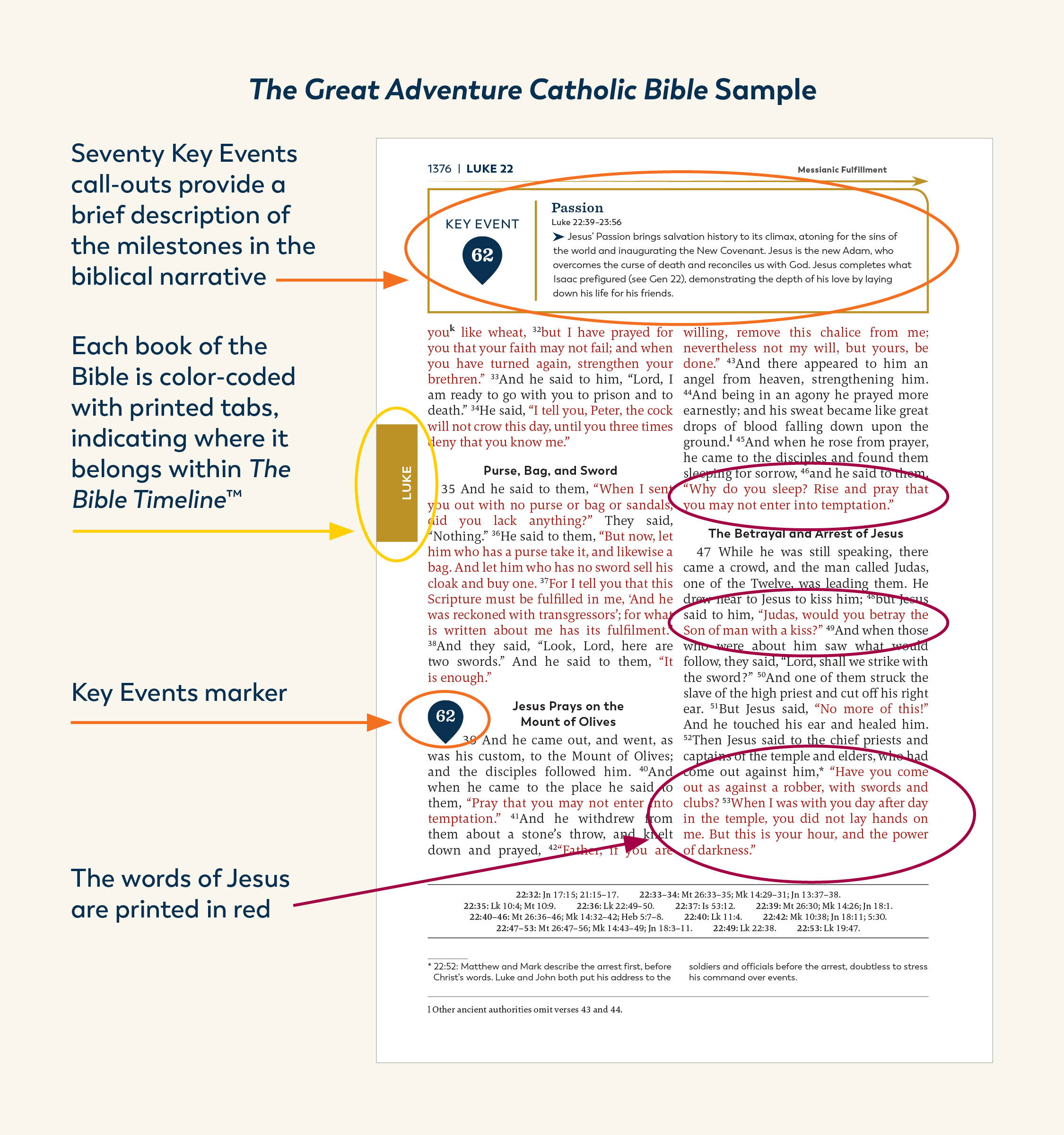 Numbered, color-coded key event call-outs draw readers' attention to important elements of the story and provide short explanations of their importance.
---
---
From Jeff Cavins, creator of the massively popular Bible Timeline® Learning System.
Begin reading the Bible for what it truly is—a great adventure!
This Bible, in addition to all its teaching features, is the complete text of the Revised Standard Version—Second Catholic Edition. It has been granted an Imprimatur and Nihil Obstat through the Archdiocese of Saint Paul & Minneapolis.
The words of Jesus appear in red to highlight the divine teachings of Christ.
Articles give a summary and explanation of each period of salvation history.
Articles introduce and explain the major covenants that God makes with his chosen people, displaying his divine plan for humanity.
Newly designed, full-color maps help readers visualize the locations of key Bible stories and make connections between the cities highlighted in the Old and New Testaments.
Ribbon markers ensure that readers can identify their place within the biblical narrative.
---
This high quality Bible features a beautiful Alpha Cowhide cover that protects its sacred text and a binding that is both sewn and glued for extra durability so that it will last for years to come.
Dimensions: 6" x 9"
---
---
See what others LOVE about The Great Adventure Catholic Bible!